1- 844 - Erebate
or
1-844-373-2283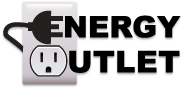 "Plugin to Savings"
Electrical Contractors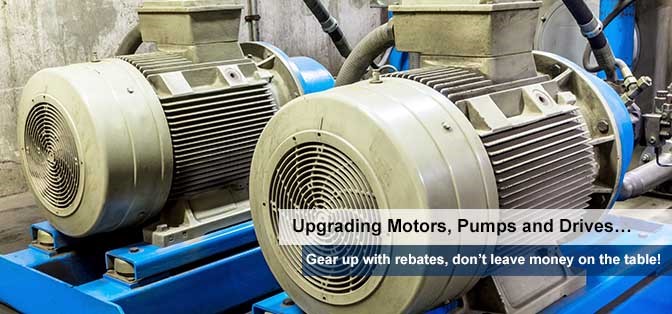 Electric motors consume 64 percent of the electricity produced in this country. Much of this energy consumption is inefficient and wasteful due to motor size being mismatched to the horsepower requirements of the job.
Electric motors frequently drive variable loads such as pumps, hydraulic systems, and fans. In these applications, motor efficiency is often poor due to operation at low loads. The operating cost of a motor over its lifetime is many times its purchase price. Small improvements in efficiency can therefore generate significant savings in energy costs.
Loading: Since motors run most efficiently near their designed power rating, it is good practice to operate between 75 percent and 100 percent of full load rating. The National Association of Electrical Manufacturers (NEMA) publishes guides for selecting motor design types for particular tasks. Motor manufacturers are another good source of information on proper selection of motors.
Voltage balance: Proper power supply is essential for achieving rated performance of a motor. Unbalanced three-phase voltage affects a motor's current, speed, torque, and temperature rise. Equal loads on all three phases of electric service helps ensure voltage balance while minimizing voltage losses.
Motor maintenance: Regular maintenance helps minimize loss from friction and heat and extends motor life. Lubrication and cleaning should be performed periodically. Motors should also be checked for proper ventilation, mounting bolt security, and load change application.
Consider energy efficient motors: Energy efficient electric motors can improve efficiency from 3 to 8 percent. Heavier copper wire, higher core-steel grade, thinner core laminations, better bearings, and reduced windage design add up to better efficiency. Initial cost outlay is higher, but the return on investment can be quick, especially for high-use motors.
Electronic Variable Speed Drives (VSDs) control the speed and torque of an electric motor by varying the frequency and voltage of the electricity supplied to the motor. They replace inefficient, energy-robbing speed controllers such as belts and pulleys, throttle valves, fan dampers, and magnetic clutches. Their small size makes them ideal for retrofits.
Consult with an electrician experienced with commercial electric motors for help selecting the right motor for your job and confirm the rebate qualifications.
Bounce Convert hidden link
CONTACT INFO
Toll Free: 1-844-ERebate
26898 Highway 189 | Suite A
PO Box 2307 | Blue Jay CA 92317